Give yourself the gift of home security
December is usually the time for giving gifts to others but as attention turns to spending time at home with your family, you may also begin to question security.
With the Christmas lights up and your house filled with presents, the dark nights of December can easily make you feel vulnerable. 
Rather than let concerns about just how safe your property is worry you, find out how home CCTV installation could help to boost your security.
The installation of home CCTV will work in a number of ways to make you feel safer in your own home by adding an extra element of security. 
Improve you home security with CCTV installation
The best way to deter criminals – and to feel safe in your own home – is to install the most comprehensive security available to you. 
That means making sure you have good quality doors and windows with working locks, security lighting in place, an intruder alarm – and home CCTV.
The expense and effort associated with Christmas makes the thought of a break-in a nightmare scenario. With well thought out gifts stashed away homeowners often worry about their safety at this time of year. 
However, rather than worrying about the vulnerability of your home make a commitment to improve security by giving yourself the gift of home CCTV installation. 
And by the time next Christmas comes around you should feel more secure in your home allowing you to concentrate on enjoying the festive season to the full. 
How will home CCTV installation improve my security?
A major strength of home CCTV cameras is the extent to which they serve as a deterrent. Offenders are more likely to think twice about breaking into a property with higher levels of security – and being caught on camera is the last thing they will want.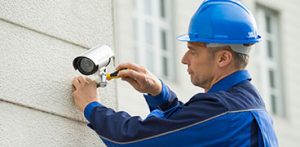 Home CCTV can alert you to any issues such as the presence of an intruder in your garden, an opportunist crook trying your front door or a would-be thief attempting to get into your car. 
The images captured by your home CCTV could also be used as evidence if you were unlucky enough to have your home targeted by a criminal.
Finding the right home CCTV solution for your property 
Rhino CCTV offers a wide range of home CCTV installation solutions. With cameras that sweep across your garden, focus on your front door or provide discreet protection inside your home we can cater to whatever your concerns are. 
For maximum reassurance, home CCTV installation is also available featuring remote access allowing you to check into your property from you place of work, or even if you are on holiday. 
Make sure that you enjoy peace of mind about your home security allowing you to focus on making the most of precious family time such as Christmas. 
To discuss the installation of home CCTV cameras at your property please use our online contact form to get in touch with Rhino CCTV for a consultation on the best solution for you.