Protecting your property – what you need to know about public perimeters
When installing security measures to protect your premises you need to take an overview approach – working from the furthest perimeter right to the heart of the building you want to protect.
Installing CCTV cameras to cover the perimeters of your property is the most efficient way of protecting your property – and of catching intruders or offenders.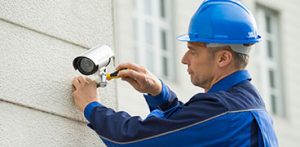 However, it is of utmost importance that anyone installing CCTV on the perimeters of their property follows the law.
Rightly so, strict data protection laws are in place to protect innocent members of the public from having their movements illegally monitored.
So where does this leave boundary surveillance? For CCTV used at a commercial property operators are required to comply with the Data Protection Act 1998.
Be open and clear about using CCTV
First of all, the most important action to take when installing all-encompassing CCTV security at a business is to make people aware that they are being filmed.
This only needs to be a sign warning that CCTV is being operated on the premises – just make sure it is on the outer perimeter from where the recording zone begins: either a gate or fence.
It is also important that the CCTV is used for the means intended, so that unnecessary filming of members of the public does not take place.
Compliance with the act cuts out keeping footage for an overlong period of time, as well as restricting who views the footage. Any filming that covers public spaces will be subject to these regulations.
Don't get caught out at home
Domestic CCTV, however, is exempt from the act if used for private reasons. That is on the understanding that it is only used on the homeowner's property.
Once the footage are extends outside a reasonable area, the homeowner would have to comply with the Data Protection Act 1998. Failure to stay within the boundaries of their private property could open homeowners using CCTV up to civil law actions under the Human Rights Act.
Make sure your CCTV is set up within the legal guidelines by using an expert to put the system in place – contact Rhino CCTV for advice.